Sky Valley Limited can be contacted at: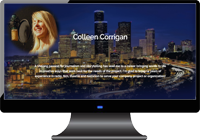 Phone: 360.379.9323
Sky Valley Limited
P.O. Box 275
Port Townsend, WA 98368
Email: customerservice@skyvalleyltd.com
Website: www.skyvalleyltd.com
A new or newly redesigned web site can do wonders for your business. In the age of fast moving technology, often times your website is your customer's first exposure to your business. You only have a few moments to catch their attention, and we know all about designing visually appealing websites.

You can view some of our recent website designs at our Customers page.

Call us today at 360.379.9323, or email us at customerservice@skyvalleyltd.com to see how we can help you with a modern, up to date, functional, and visually appealing website.