All About Websites – AKA Websites 101
How do I get a website once I have a domain name and web hosting set up?
There are a few different ways you can get a website up and running.
• First off is the "DO IT YOURSELF" approach using an online template offered by some web hosting companies. This is possibly the least expensive and most time consuming method there is. Prepare to have a crash course in how to write HTML code, and then make sure you have a friend who understands all of this to help you out when you get stuck. These template sites are not as simple as they sound, especially for someone with no experience. They are also very limiting as far as what you can do with them and how you can make your site appear.
• Your second option is the "DO IT YOURSELF WITH DESIGN SOFTWARE" method. You can purchase some website design software and create your own site. Again, you will need to have a crash course in HTML, and a knowledgeable friend nearby to help you out. This method is also only recommended if you have a lot of time, and a good knowledge base to start with.
• The third way to get a website is to "HAVE IT DESIGNED BY AN EXPERT" method. You can pay a web designer to build your site for you. The designer will review your needs and expectations, plus your ideas of what you want your site to do and how you want it to appear, and will create a site that is custom built for you and / or your business. If you are setting up a website for a business, this is going to be the best investment in the long run. Not only will a good designer make you a beautiful and functional site, but it will also last for years to come without huge time investments put into updates.
Does Sky Valley Limited offer website design services?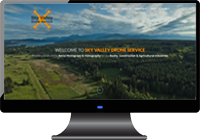 Yes! At Sky Valley Ltd, we offer professional web design services. To see some examples of our recent designs, please visit our Customers page.

Call us today at 360.379.9323, or email us at customerservice@skyvalleyltd.com to discuss what a new or redesigned website can do for you and your business.